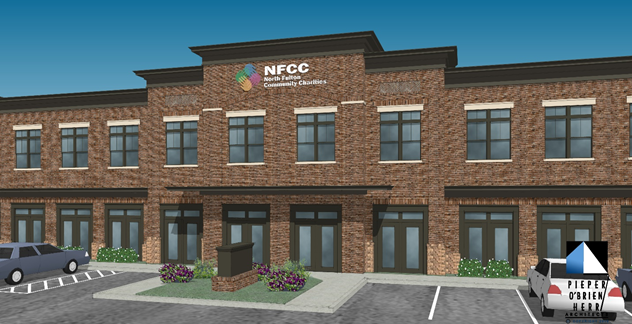 A Capital Campaign: Growing with Purpose
CAMPAIGN OVERVIEW
NFCC launched the $6.2 million Growing with Purpose capital campaign in fall 2018, driven by increased demand for our emergency assistance and family enrichment programs. For nearly 15 years, NFCC has been providing programs and services out of two increasingly crowded and inadequate facilities:
Service Center (20,000 sq. ft.) owned by NFCC, houses the food pantry, Case Management and Emergency Assistance, the Thrift Shop, and administrative offices.
Education Center (3,000 sq. ft.) leased month-to-month, housed the Family Enrichment Program, computer lab services, seasonal programs, and development staff. This building was recently sold, requiring us to temporarily relocate.
As the North Fulton community continues to grow, so must NFCC to sufficiently meet current and future needs. A 2017 evaluation of NFCC facilities and space utilization conducted by an outside logistics team projected that NFCC requires 40,000 sq. ft.—nearly double our current size—to optimize operations and accommodate long-term growth. NFCC's strategic plan calls for the acquisition of resources needed to fulfill the organization's mission, foster-self-sufficiency, and improve the quality of life for those we serve and the North Fulton community as a whole. View our Case Statement.
The Growing with Purpose capital campaign is funding much-needed renovations to existing facilities that house our food pantry and the NFCC Thrift Shop and the construction of a new two-story 18,000 sq. ft. Service & Education Center located across the road from our current facility.
Campaign Leadership
Kathryn Albright, Co-Chair
Emory Johns Creek Hospital
Bruce Gunning, Co-Chair
UPS (retired)
Bryan Apinis
North Point Community Church
William Brower
LexisNexis Risk Solutions
John Carpentier, CPA
Windham Brannon
Barbara Duffy
North Fulton Community Charities (retired)
Mary Good
Community Advocate

90%+ of individuals that receive financial assistance remain stably housed for 3+ months.