NFCC Response to COVID-19
Respuesta de NFCC a COVID-19
Updated April 3, 2020, 1:00pm   Actualizado el 3 de Abril de 2020, 1:00 pm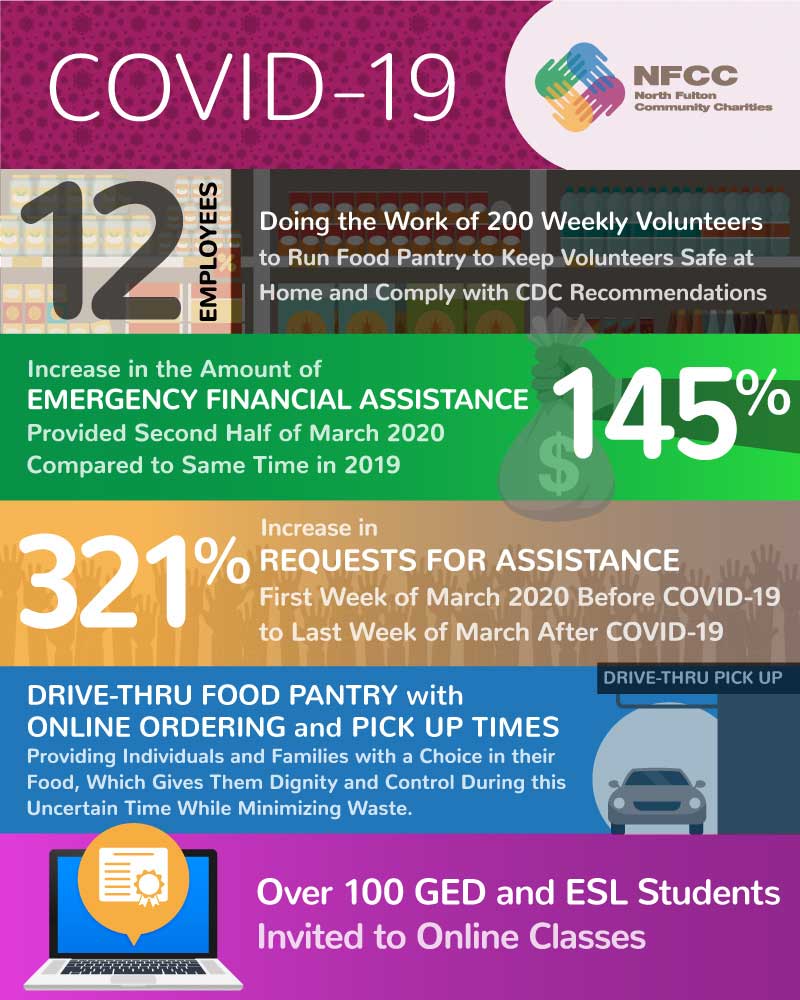 In response to the rapid spread of COVID-19 and the recommendations of public health officials, NFCC is temporarily suspending most programs and volunteer shifts to reduce the number of people in our buildings and focus on emergency services during this public health crisis. The Food Pantry will be open by appointment and Financial Assistance will be available via the NFCC website. While we are taking these measures for public safety, we are embracing our role to provide emergency services during this crisis.
As a provider of emergency services, we are monitoring the situation closely and will continue to do everything possible to keep a clean and safe environment so we can stay open for the individuals and families that need our services.
En respuesta a la rápida propagación de COVID-19 y las recomendaciones de los funcionarios de salud pública, NFCC suspende temporalmente la mayoría de los programas y turnos de voluntarios para reducir la cantidad de personas en nuestros edificios y centrarse en los servicios de emergencia durante esta crisis de salud pública. La despensa de alimentos estará abierta y la asistencia financiera estará disponible a través del sitio web de NFCC. Mientras tomamos estas medidas para la seguridad pública, estamos adoptando nuestro papel de proporcionar servicios de emergencia durante esta crisis.
Como proveedor de servicios de emergencia, estamos monitoreando de cerca la situación y continuaremos haciendo todo lo posible para mantener un ambiente limpio y seguro para que podamos permanecer abiertos a las personas y familias que necesitan nuestros servicios.
Need Help?

¿Necesitas ayuda?
Existing NFCC Clients:
Food orders must be placed online. Fill out the Food Pantry Order Form and you will get an email when you order is ready to be picked up. It may take a couple of days.
New to NFCC?
Clientes Existentes de NFCC:
¿Cliente Nuevo en NFCC?
How You Can Help – Cómo Puedes Ayudar
We anticipate an increase of individuals and families in need of assistance as hourly wage earners feel the economic stress as hours are cut back for the workforce that supports events, entertainment, retail and restaurants. Financial donations are the best way to help at this point. They allow us to help the greatest number of people in the shortest amount of time. It also allows us to be flexible in the services we provide to families that need it.
Due to the new shelter-in-place order, we can NO LONGER accept food pantry donations from individual donors. We know there were many people coordinating food drives. If you have already collected food and hadn't yet dropped it off, email Melody Fortin for further instructions.
Together, we can help!
Anticipamos un aumento de individuos y familias que necesitan asistencia, ya que los salariados por hora sienten el estrés económico a medida que se reducen las horas para la fuerza laboral que apoya eventos, entretenimiento, tiendas y restaurantes. Las donaciones financieras son la mejor manera de ayudar en este momento. Nos permiten ayudar al mayor número de personas en el menor tiempo posible. También nos permite ser flexibles en los servicios que brindamos a las familias que lo necesitan.
Debido al nuevo pedido de refugio en el lugar, ya NO podemos aceptar donaciones de alimentos de donantes individuales. Sabemos que había mucha gente coordinando campañas de comida. Si ya ha recogido alimentos y aún no los ha dejado, envíe un correo electrónico a Melody Fortin para obtener más instrucciones.
¡Juntos podemos ayudar!
Updates by Department – Actualizaciones por Departamento
Food Pantry – Despensa de Alimentos
The Food Pantry is open by appointment only. The Food Pantry is open to anyone in North Fulton that is in need of food. We are taking all measures to ensure a clean and safe environment so individuals and families in need can get vital supplies. We are reaching out to our most vulnerable populations who cannot come in to the food pantry for alternate options.
¡La Despensa de Alimentos estará abierta solo con cita previa!
La despensa de alimentos está abierta a cualquier persona en North Fulton que necesite alimentos. Estamos llegando a nuestras poblaciones más vulnerables que no pueden ingresar a la despensa de alimentos para obtener opciones alternativas.
Financial Assistance –Asistencia Financiera
Financial Assistance will remain OPEN via our website! We understand closings across the region will affect wages for many individuals and families that are already struggling. If you need financial assistance with your rent/mortgage, utilities or other emergency expense fill out the Apply for Help form on the website. We will contact you for next steps. All non-emergency appointments have already been cancelled to focus on emergency needs.
¡La asistencia financiera permanecerá ABIERTA a través de nuestro sitio web! Entendemos que los cierres en toda la región afectarán los salarios de muchas personas y familias que ya están luchando. Si necesita asistencia financiera con su alquiler / hipoteca, servicios públicos u otros gastos de emergencia, complete el formulario solicitar ayuda en el sitio web. Nos pondremos en contacto con usted para los próximos pasos. Todas las citas que no son de emergencia ya se han cancelado para centrarse en las necesidades de emergencia.
Education Center –Centro Educativo
The Education Center is temporarily closed. Some classes and services are currently available remotely or online. The Education web page will have current availability and registration information
VITA Tax preparation is currently suspended.
Benefits Screening for SNAP and Medicaid Assistance is now available by phone. Call 678-553-5917 for help with an online application. Proof of identity is still required, so you will need to be able to email or text any verification documents.
El Centro de Educación está temporalmente cerrado. Algunas clases y servicios están actualmente disponibles de forma remota o en línea. La página web de Educación tendrá disponibilidad actual e información de registro.
La preparación de impuestos VITA está actualmente suspendida.
La evaluación de beneficios para SNAP y Asistencia de Medicaid ahora está disponible por teléfono. Llame al 678-553-5917 para obtener ayuda con una solicitud en línea. Todavía se requiere una prueba de identidad, por lo que deberá poder enviar por correo electrónico o enviar un mensaje de texto con los documentos de verificación.
 
Thrift Shop – Tienda de Segunda Mano
The Thrift Shop is closed to allow us to clean and disinfect the store. We will post here and on social media when the store is reopening.
We are currently NOT ACCEPTING Thrift Shop donations. We apologize for any inconvenience. If you are currently on the schedule for a furniture pick up you will be notified to reschedule.
La tienda de segunda mano está cerrado para permitirnos limpiar y desinfectar la tienda. Publicaremos aquí y en las redes sociales cuando la tienda vuelva
Actualmente NO ACEPTAMOS donaciones de la tienda de segunda mano. Nos disculpamos por cualquier inconveniente. Si actualmente se encuentra en el horario para la recogida de muebles, se le notificará que reprograme.
Volunteers – Voluntarios
Effective immediately, NFCC is suspending ALL volunteers. Please visit the website for updates and look for further communication as this crisis continues to develop.
We are no longer accepting community service volunteers.
Con vigencia inmediata, NFCC suspende a todos los voluntarios. Visite el sitio web para obtener actualizaciones y busque más comunicación a medida que esta crisis continúa desarrollándose.
Ya no aceptamos voluntarios de servicio comunitario.
Safety Precautions Currently in Place – Precauciones de Seguridad Actualmente Vigentes
We are closely monitoring all updates from public health officials and have already implemented the following to protect clients and staff:
We have asked our clients, volunteers and employees not come to NFCC if they have a fever or are feeling sick. Clients are given priority to reschedule any missed appointments.
Signs have been posted throughout the food pantry and lobby that explain CDC procedures in both English and Spanish.
Disinfecting wipes and hand sanitizer are being used throughout the food pantry, lobby and offices. All keyboards and other communal spaces are being wiped down hourly at a minimum.
Estamos monitoreando de cerca todas las actualizaciones de los funcionarios de salud pública y ya hemos implementado lo siguiente para proteger a los clientes y al personal:
Les hemos pedido a nuestros clientes, voluntarios y empleados que no vengan a NFCC si tienen fiebre o se sienten enfermos. Los clientes tienen prioridad para reprogramar cualquier cita perdida.
Se han publicado carteles en toda la despensa de alimentos y el lobby que explican los procedimientos del CDC en Inglés y Español.
Se están utilizando toallitas desinfectantes y desinfectante para manos en toda la despensa de alimentos, el vestíbulo y las oficinas. Todos los teclados y otros espacios comunes se están limpiando cada hora como mínimo.