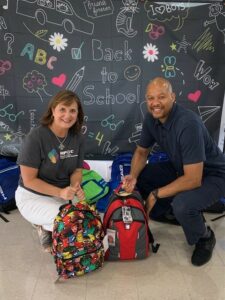 Roswell, GA (August 4, 2021) – North Fulton Community Charities' (NFCC) annual Back to School program distributed backpacks filled with school supplies to more than 1,800 students in grades K-12 this year.  The Back to School program serves local families in need and helps to alleviate the financial burden from these seasonal purchases.
"This program provided opportunities for our entire community to work together to thrive in support of so many students," said Executive Director Holly York.  "This is just one of the many ways we support our families, in addition to providing food, clothing, and education classes. For a family with two school-aged children, getting backpacks could free up an additional $200 that can be used to pay for rent and utilities. We are in awe of the incredible outpouring of backpacks, supplies and financial donations received. We were also able to partner with Fulton County Schools, Foster Care Support Foundation, STAR House Foundation, and Amana Academy to provide backpacks and school supplies to students and teachers in our community."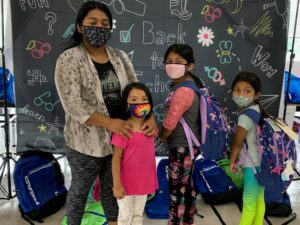 Triton Claim Management, LLC was the Supporting Sponsor; Celia Sandoval, State Farm Agent and DataScan were Friend Sponsors, and Elkins Pointe Middle School donated space for the program.
"The NFCC Back to School program is changing the lives of our young people.  The program plays a pivotal role in ensuring our students have the necessary resources to be prepared for the coming school year," said Damian Bounds, Principal of Elkins Pointe Middle School and NFCC Board member.
For more visit our Back to School web page.