When Curtis dropped out of high school, he wasn't thinking much about his future plans.  He says that it took a while to get to a place where he could begin assessing his next steps. Once he did, there was no stopping him.  Curtis set four goals; get his GED (General Educational Development Test), earn a degree, get a good job, and buy a house.
Curtis looked for GED Programs and found NFCC.  He was already familiar with NFCC because he had visited the Thrift Store with his grandparents.  We first met Curtis in January. He was matched with a tutor and began studying and practicing for the four exams.  When he passed his first GED exam – Science, he was motivated to keep up the hard work. On May 20, 2023, just five months after starting the program, Curtis completed his last GED exam and earned his Georgia High School Diploma.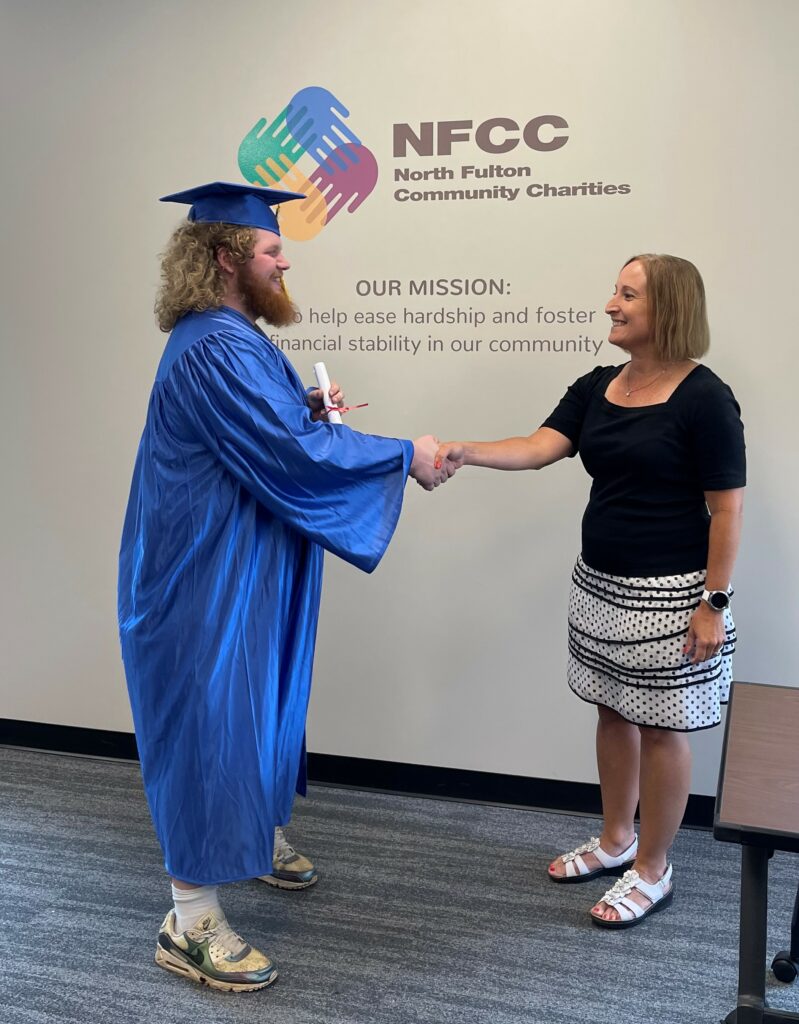 Staff and volunteers in the GED Program were immediately fond of Curtis.  Curtis always had a smile and kind manners.  When asked how the NFCC staff could improve the GED Program, he answered, "Y'all are doing everything fine.  Everyone was nice."  When I asked what advice Curtis would give to GED students, he answered, "Keep pushing.  It will be worth it in the end."
Although our time with Curtis was brief, he leaves a lasting impression.  Curtis did not just earn a GED on May 20, 2023; he began a success story that will continue to inspire us at NFCC and everyone else who has the privilege of meeting him.
Curtis' plans involved a move out of state, so we knew he'd be unable to attend our GED graduation ceremony later this year. So, we held a short but sweet graduation ceremony for him at the NFCC's offices.  Best of luck, Curtis.  We know you'll go far!
Top photo: Curtis pictured with Wynona Kuehl (left), program manager, education and Sandy Holiday (right), executive director
Bottom photo: Curtis with Sandy Holiday.