Adult Education and Workforce Development
The Education Center at NFCC helps families move toward financial stability and self-sufficiency by offering free adult basic education and life skill classes including English, GED test preparation, financial and computer literacy, workforce readiness and more. Classes are free and open to our community space permitting. On-site childcare is provided at no cost to participants for most evening and weekend classes. Please note that class size and availability is limited as we continue to adhere to CDC Covid-19 guidelines. Complete the Interest Form and we will notify you if we are when we are able to offer the class.
English as a Second Language (ESL)
ESL Classes – There are three sessions of this 15-week course each year.  Each class meets twice a week for the 15 weeks, either during the morning or evening. Students are placed by level and may advance through five levels. Curriculum topics include education, health care, financial planning, and employment. Students meeting attendance and participation requirements receive a Certificate of Completion.
2021 Remaining ESL Course Sessions:
Summer Session:  June 1 – August 20, 2021
Tuesday and Thursday 10:30 a.m. – 12:30 p.m.
Tuesday and Thursday 5:30 p.m. – 7:30 p.m.
Fall Session:  September 7, 2021 – December 9, 2021.
Monday –  Thursday 10:30 a.m. – 12:30 p.m.
Tuesday and Thursday 5:30 p.m. – 7:30 p.m.
Adult GED Tutoring and Test Prep
Prepare for the GED test – New student registration is ongoing throughout the year. Please complete the Interest Form for more information. Preference is given to applicants in north Fulton.
The GED Program consists of computer lab digital learning, individual tutoring, and peer teamwork.  Students are given official GED practice tests before taking the official GED test. Students passing the GED Test earn a high school equivalency diploma.
GED Tutoring Program
Tuesday, Wednesday, Thursday 10:00 a.m. – 12:30 p.m.
Tuesday, Thursday 5:00 p.m. – 7:30 p.m.
Personal Financial Coaching
NFCC offers financial coaching resources.  Both one-on-one coaching and peer-group workshops are available.  Please complete the Interest Form to be contacted for an appointment.
Individual Job Coaching
NFCC offers individual job coaching for help identifying employment opportunities as well as working in the technology lab to prepare applications, resumes, cover letters, and other necessary documents. Please complete the Interest Form to be contacted for an appointment.
Complete the Interest Form
Complete the  online form to register for classes, tutoring and coaching. We will contact you as soon as it is available.
Education and Enrichment Partners
Thank you to the following partners who help make the NFCC Education programs possible.
Atlanta Food Bank

Atlanta Legal Aid

Department of Human Services

Division of Family and Children Services

Fulton County Workforce Development

Gwinnett Tech

Hispania Realizada

Johns Creek Arts Center

Latin American Association

LexisNexis

Olson & Associates

Rosen Law Firm

Thompson Solutions Group

USCIS Immigration Services
The Mary Joan Keeney Education Fund (MJK) was established in partnership with NFCC in 2017 to honor the memory of Joan Keeney and her dedication to continuing education. The MJK Fund will assist selected NFCC clients achieve educational and occupational goals by providing financial assistance to people in need.  The purpose of the fund is to provide women interested in healthcare and mental health careers access to funds to help further their education and/or certification.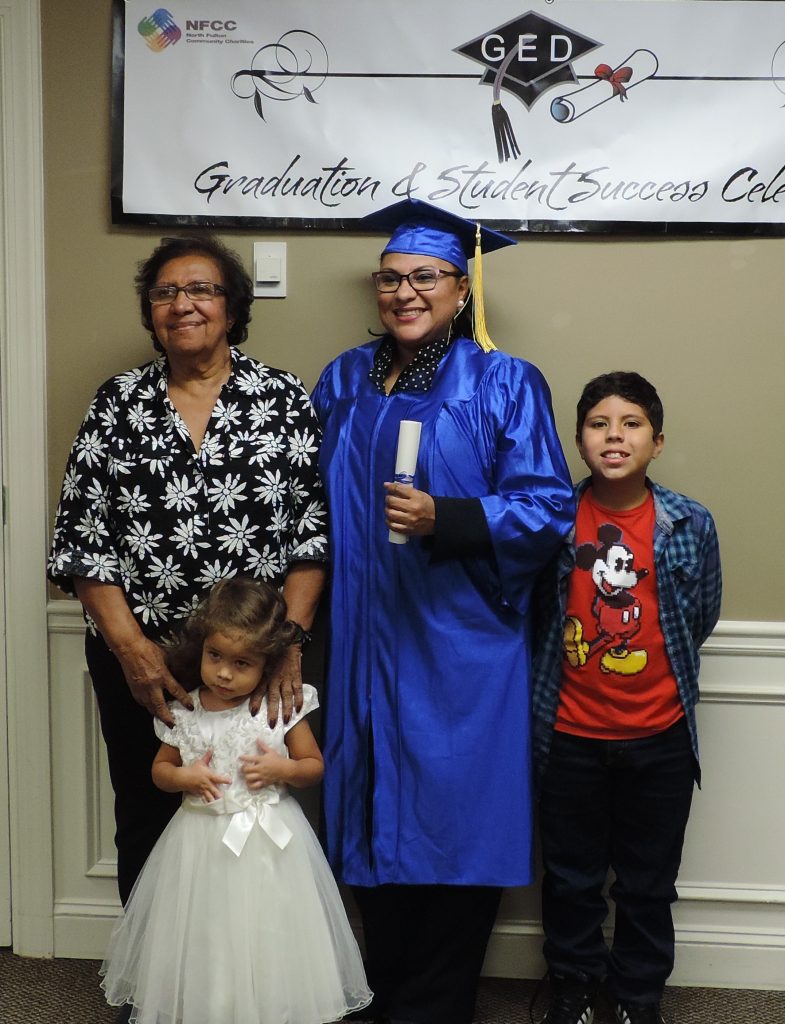 Excerpt from Alpharetta/Roswell Herald November 26, 2018:
Aileen Bagwell is a recent graduate from the GED program. Bagwell was originally born in Venezuela and came to America to find a better future for her son. Five years ago, she used to go to North Fulton Community Charities for food assistance when she was struggling. During those trips, she saw signs for the GED program and eventually decided to enroll.
"I said to myself, 'I want to find a better job, and the best way is through education,'" Bagwell said. "So I decided to try."
She was told by program staff that they expected it would take her eight months to finish. But it took Bagwell only five months to complete the program. 
"The support from the tutors and the organization was the key to help me get my GED," Bagwell said. "They are very kind and very patient. It was a very good experience, and I'm really grateful for the program."
Bagwell said she is now more independent and is planning to enroll next semester to take classes at Gwinnett Tech for marketing or data analysis. 
"It's not just for young people, it's a program that helps really everybody, no matter your age or where you're coming from," she said. "It will help you get a better future for you and your family."

The minimum wage in Georgia is $7.25/hour and $19/hour is the average needed to afford a 2-bedroom unit at fair market rent in North Fulton.