The key to the success of our English as a Second Language program is our incredible instructors. Each instructor goes above and beyond to develop creative and engaging lessons and projects that keep students progressing toward English fluency. They encourage collaboration and community in the classroom, allowing students to break out of their comfort zone and practice their new skills with confidence.
Read more about eight of our ESL instructors, what they love about teaching at NFCC and their most memorable students below:
Kathie Lunsford
Level 1 Instructor & Volunteer
 I chose to volunteer in the education department at NFCC because I wanted to give back to the community in which I live. As a retired teacher I felt my skills in education could best be used in this area. I started five years ago working with students who were working on their GED. After five years, I was interested in a change. Having previously been certified in ESL; working with the ELS students seemed a perfect match.
What I enjoy the most about ESL classes is interacting with the students and seeing how they advance from the beginning of a session to the end. The students are very excited on the last day of the session when they receive a certificate of completion. Their smiles and excitement are rewarding for me.
I remember one student who moved on to the next level and returned after a few weeks because he did not feel comfortable at that level. I made it a priority to give him a little extra help when time permitted before or after class. He has now advanced to the next level and is feeling comfortable and successful. His hard work is rewarding for him and a joy for me as well.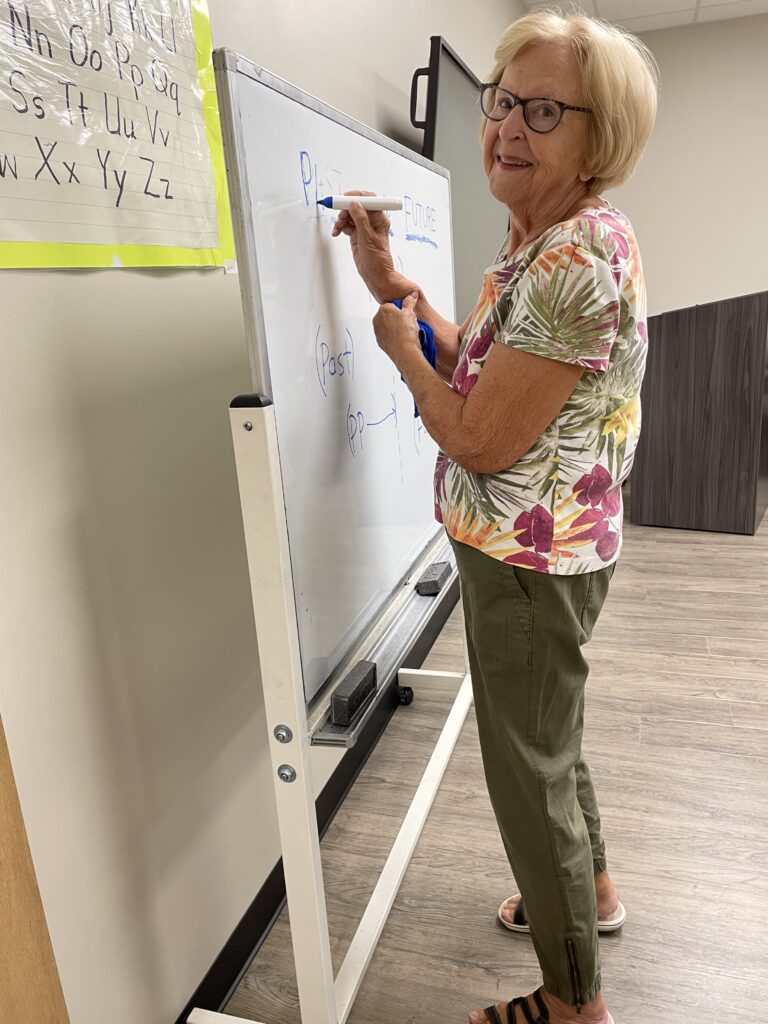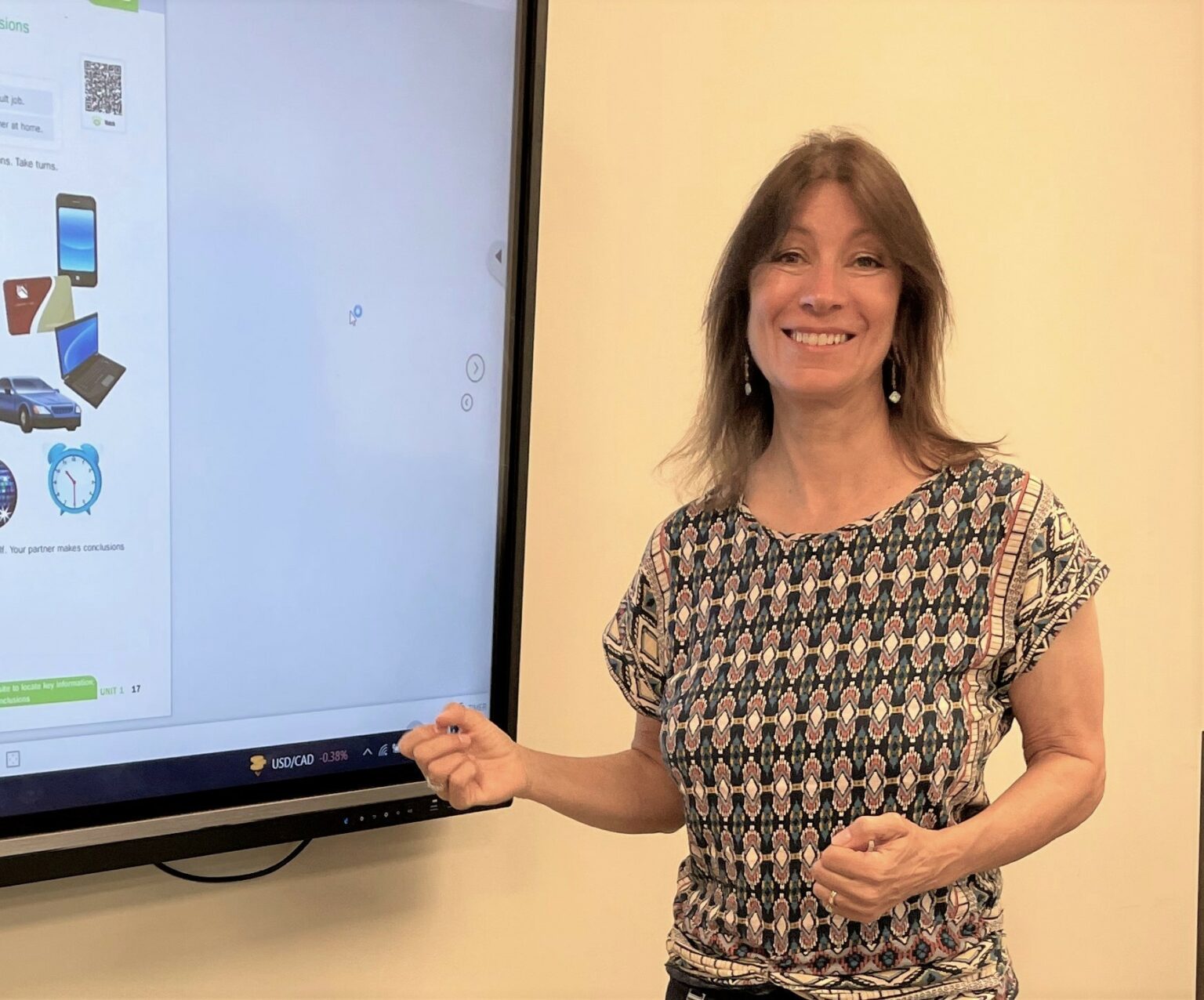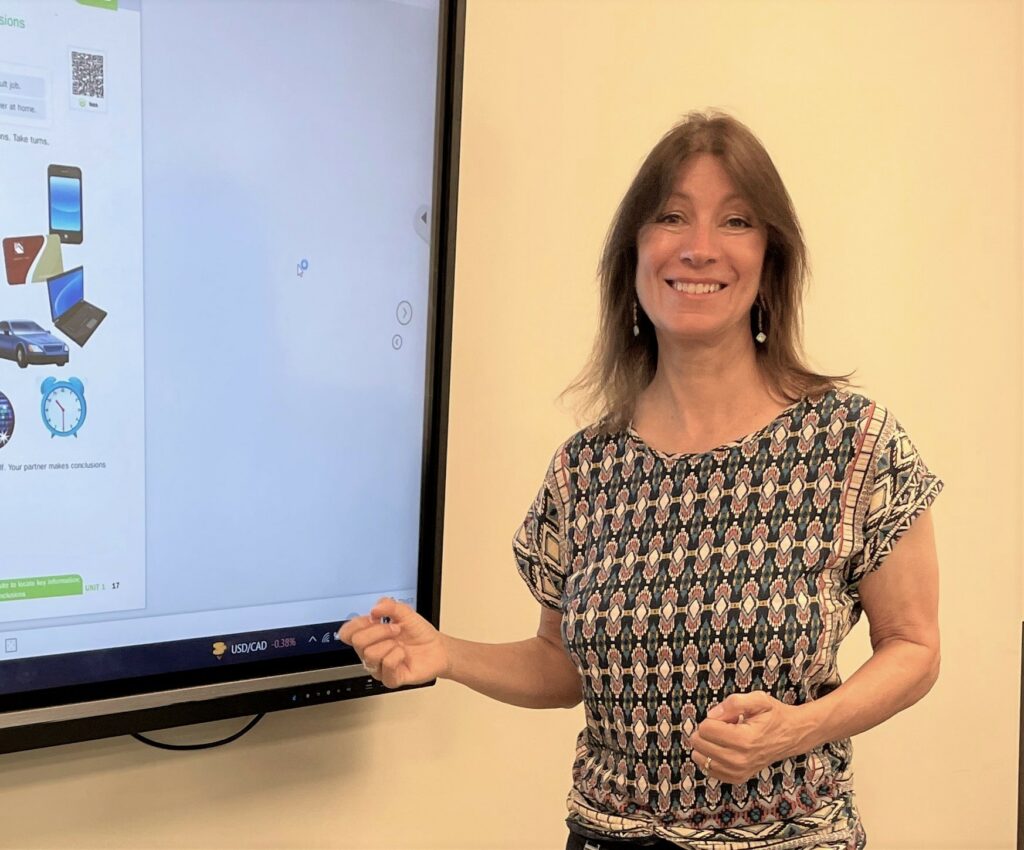 Becky Pappalardo
Level 3 Instructor
It is a joy to teach ESL at NFCC.  Every day I am in the classroom I get to witness students working incredibly hard to overcome very challenging circumstances and build better lives for themselves and their families. Many students hold more than one job and have very little time for leisure activities, but they make time to study English in order to improve their circumstances.
It is very rewarding to help these students in their journey and see their confidence build and their English progress each session.  They bring determination to class, but they also bring laughter, warmth, humor and a deep sense of community that is infectious.  I am very privileged to get to work with this amazing community and appreciate the opportunity to make a difference in their lives in some small way.
ML Kurish
Level 2 Instructor
I began to study languages in university.  I fell in love with the ability to connect with new people, cultures and places more intimately by communicating directly with those who lived in various countries.  After living in Colombia, Spain, and Brazil, I knew that my interest in international affairs would always be an important part of my life.  Teaching ESL at NFCC has given me the opportunity to stay "current and connected" and to assist others.
I believe knowing the language of a new country is the first step and gateway to a fulfilling experience living in that country – wherever in the globe one is.
After I left my "day job", I knew I wanted to work with people who desired to learn to speak English in order to communicate here in the US and build new lives for themselves.  I enjoy working with the NFCC adult students because they are so passionate and hardworking.  They appreciate the importance of speaking the language of the country they now live in and understand how it will open new opportunities for them both socially and economically. Recently, I have begun working with a student that speaks Turkish – a language I don't speak.   She has motivated me to expand my horizons even further.  I started my Turkish lessons last week!!  Tesekkurler ederim, (Thank You!) Hatice.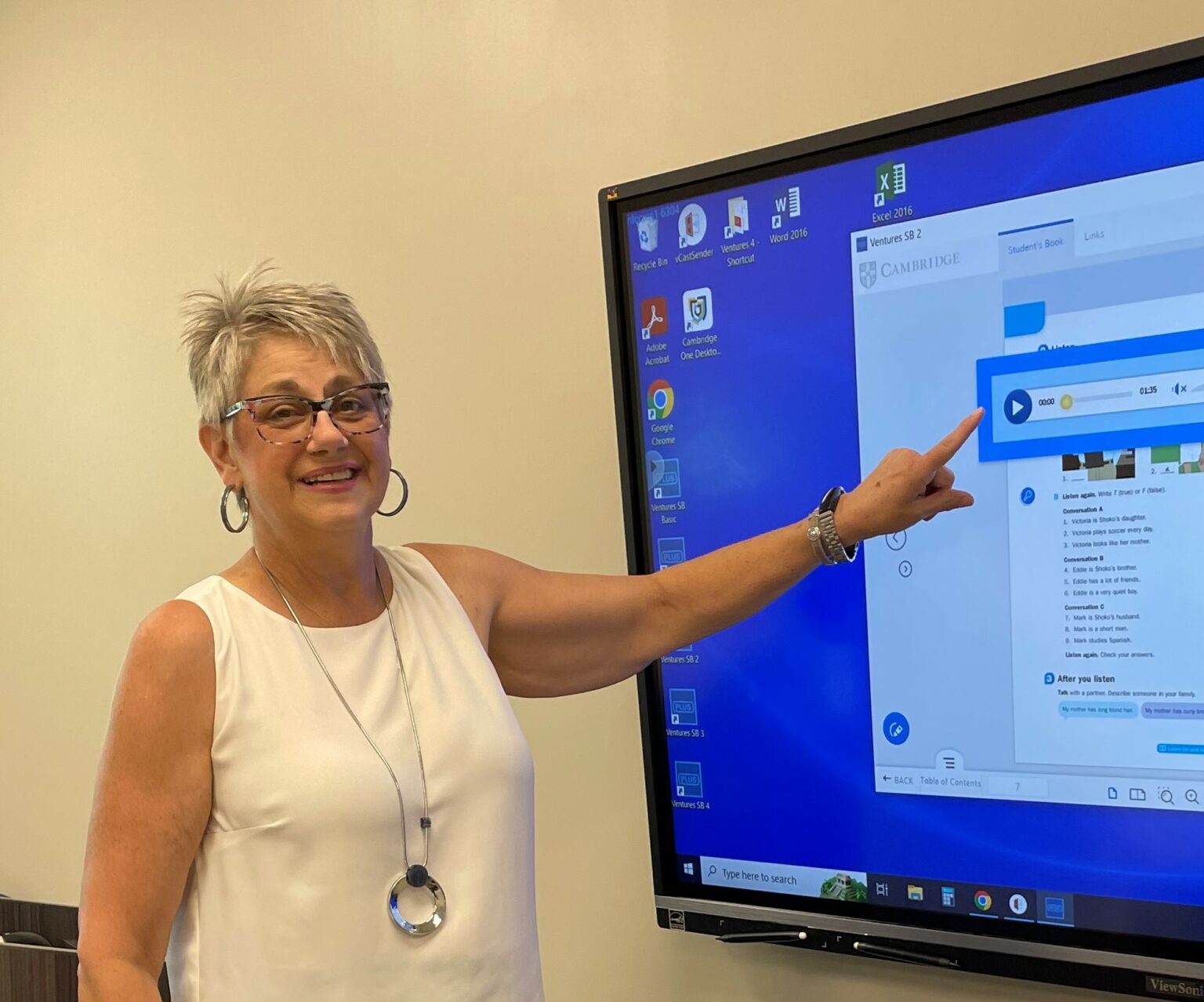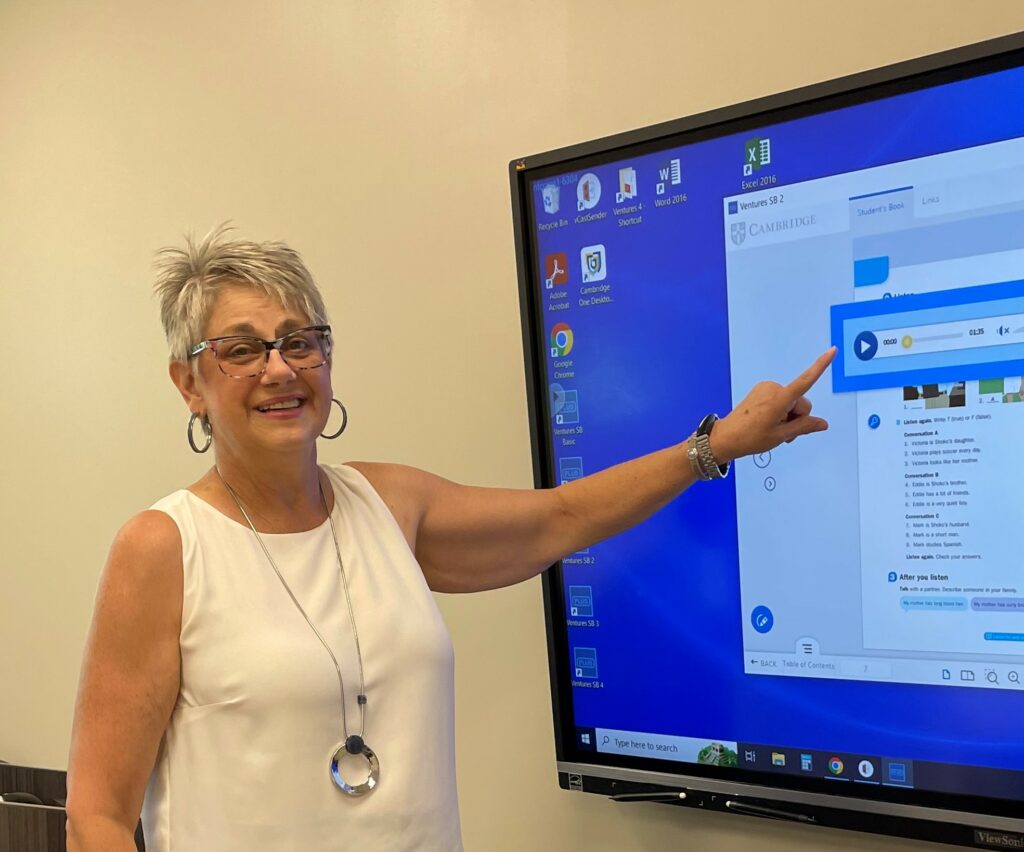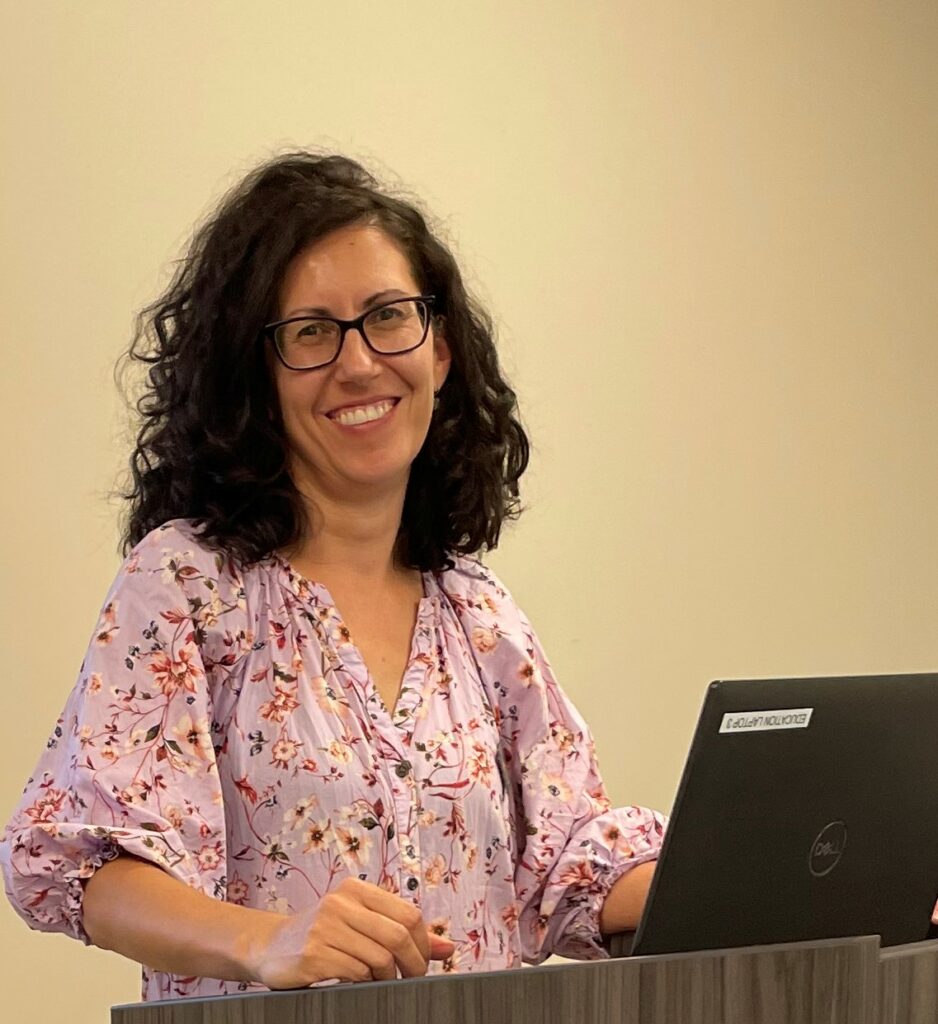 Oana Petroaie
Level 4 Instructor
I love teaching ESL because it is very rewarding. 
This is my way of giving back to the community. 
As an immigrant myself, I can also relate to the challenges my students face, and I feel this is my way of helping them adapt to and immerse into the new culture. 
I love seeing the progress of my students, and how proud they are about their accomplishments, either in language or other aspects of their new life in this country, such as getting a job or purchasing a home.
As an ESL teacher, I get to witness the joy of being and learning together. Students become friends during the months they are in class together. My closest friends are Polish and Columbian, and they have been happily married for 15 years. What's the most exciting thing about this story? They met while they were taking ESL classes.
Paige Maier
Level 2 Instructor
With regard to teaching Paige Maier has seen it all; from the hustle and bustle of public schools, to the exclusive corridors of private education, to the comfort (and chaos) of homeschooling, to directing activities at a Senior Living Facility (bingo, anyone?).  Originally from south Florida, this Hope College alumna (Holland, Michigan…BRRR!), turned a new leaf in January of 2021, adding "ESL Teacher" to her collection of hats.  Additionally, she currently works part-time as a property manage and bookkeeper.  All of these roles have not only left Paige with countless stories, but treasured relationships.  She reports that teaching ESL is her sweet spot!
Outside of the classroom, Paige trades her teacher's hat for ballroom dancing shoes and a green thumb.  She and her husband love to travel, but especially enjoy spending time in the mountains of North Carolina.  A member of Bridge to Grace Church in Roswell, she is the mother of four adult children and "pseudo-mom" to many others that have resided in her home throughout the years. (Empty nesting will just have to wait!).  She has never met a dinner party she didn't love, playing hostess to countless memorable gatherings of friends and family at her home.
Paige is honored to be a part of North Fulton Community Charities and hopes to continue, for many years, sharing English with the brave souls who come to this country and are eager to learn.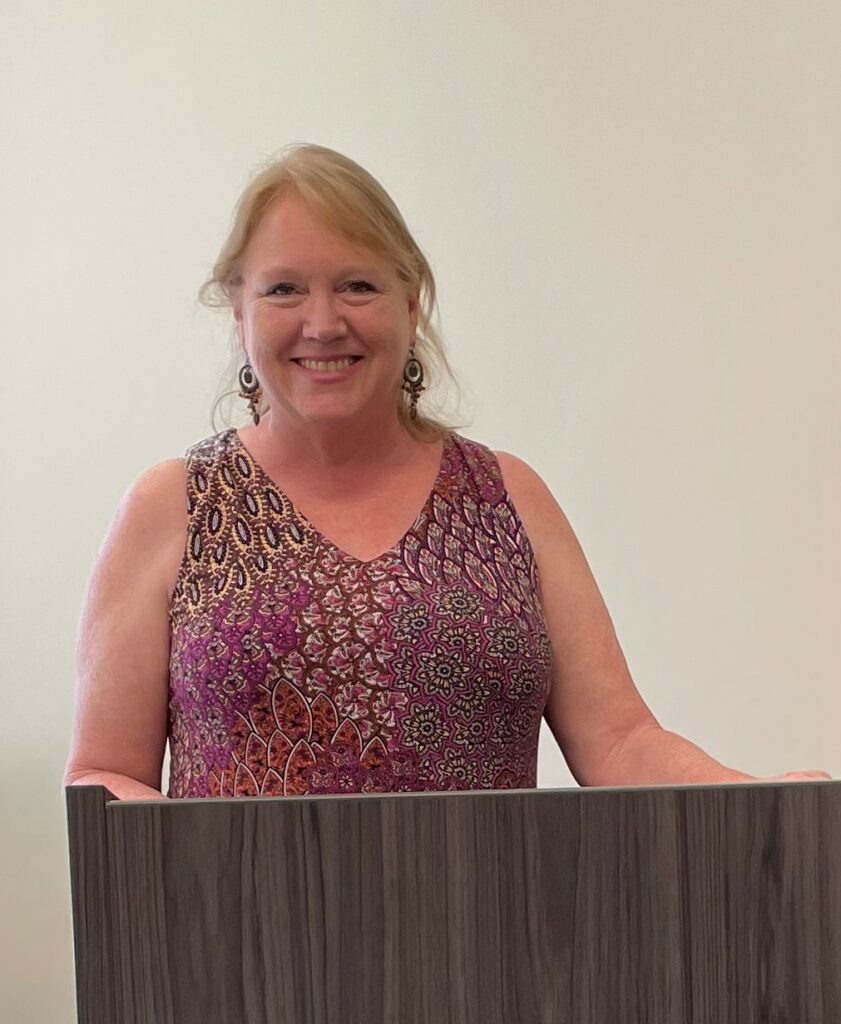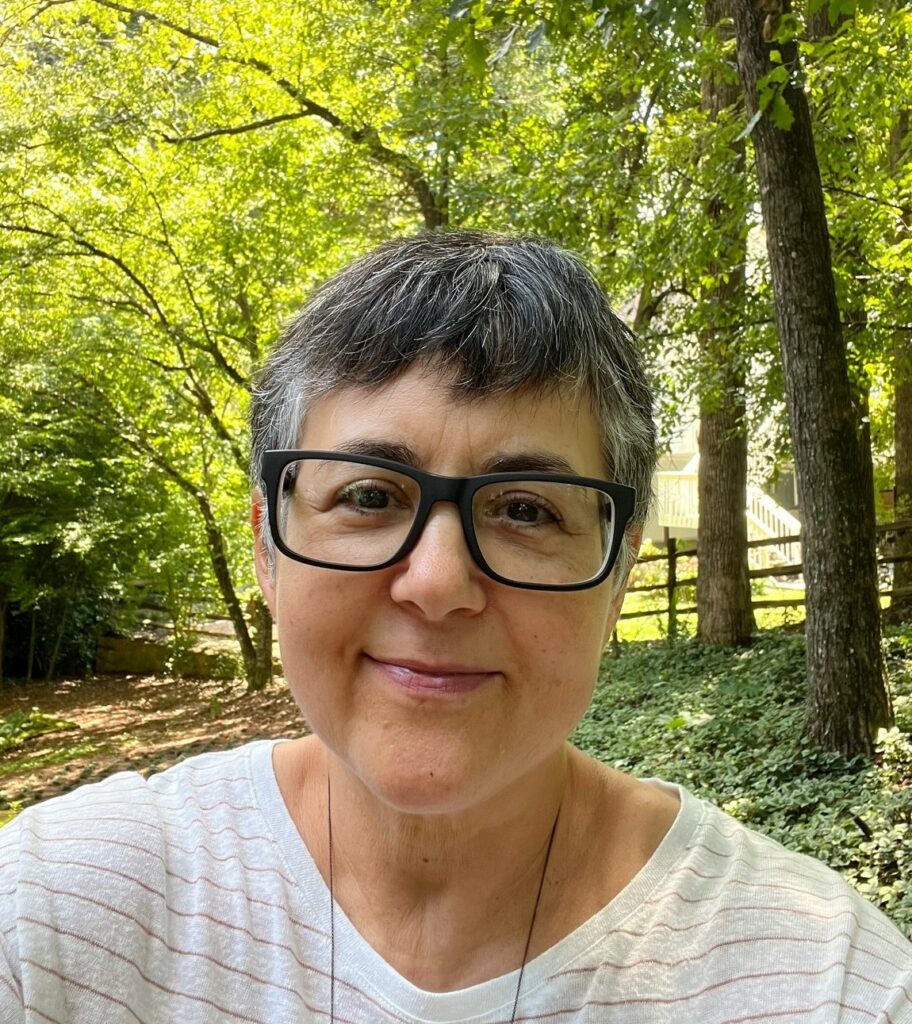 Liz Platner
Level 1 Instructor
 I have enjoyed teaching kids for many years and was interested in teaching an adult class.  I've volunteered in many roles at NFCC and feel like I've found a great match teaching ESL.
I love working with adults who are so motivated to learn.  It's a big contrast with teaching in an elementary school!  These students have been through so much just to get here.  As they learn more English, they're able to get better jobs and make more money.  I love seeing their confidence grow and their situations improve.
Last quarter, I saw a job application tucked into a student's English class notebook.  They told me they wanted to apply for a job but didn't understand all the questions on the application.  We sat together and completed the application online.  They got the job!
Sabrina Howry 
Level 5 Instructor
I have enjoyed working and volunteering in many capacities over the years.  However, assisting my former neighbor in an ESL class she taught at her church more than a decade ago has always stayed in my mind.  When I moved to Roswell, I knew I would jump at the opportunity to work with ESL students again.  It is my joy and a true privilege to get to serve our incredible friends who have traveled from all over the world to become our neighbors!
I love to give hope and build confidence in those who are part of my "English class family".  Their success is my greatest reward.
I have MANY stories I can share about my amazing students!  One story that stands out to me is of my friend Delimar.  Her father had a medical emergency in the middle of the night and was transported to the hospital for treatment.  Over the few days in the hospital, she did not need anyone to translate for her and she was able to communicate with the doctors and nurses who cared for her father.  While this was a very stressful event for their family, she was excited to report to me how well she spoke English!  She was nervous to speak English in our class, but she gained her confidence when life threw her a curve ball and she was able to knock it out of the park.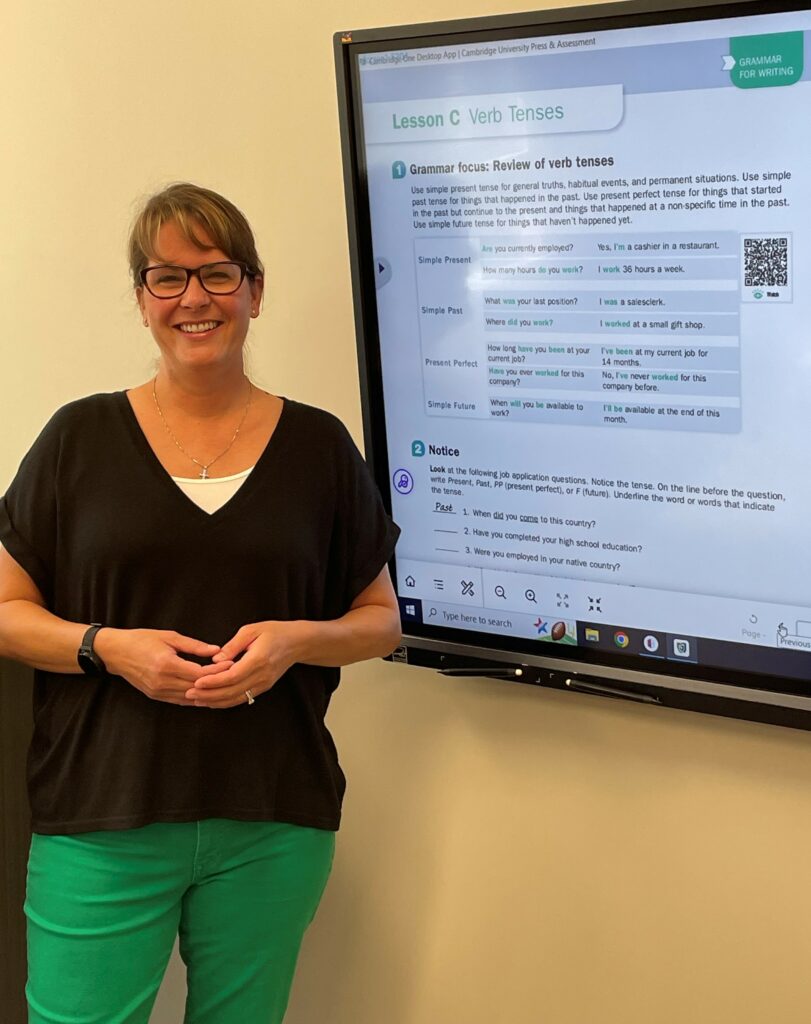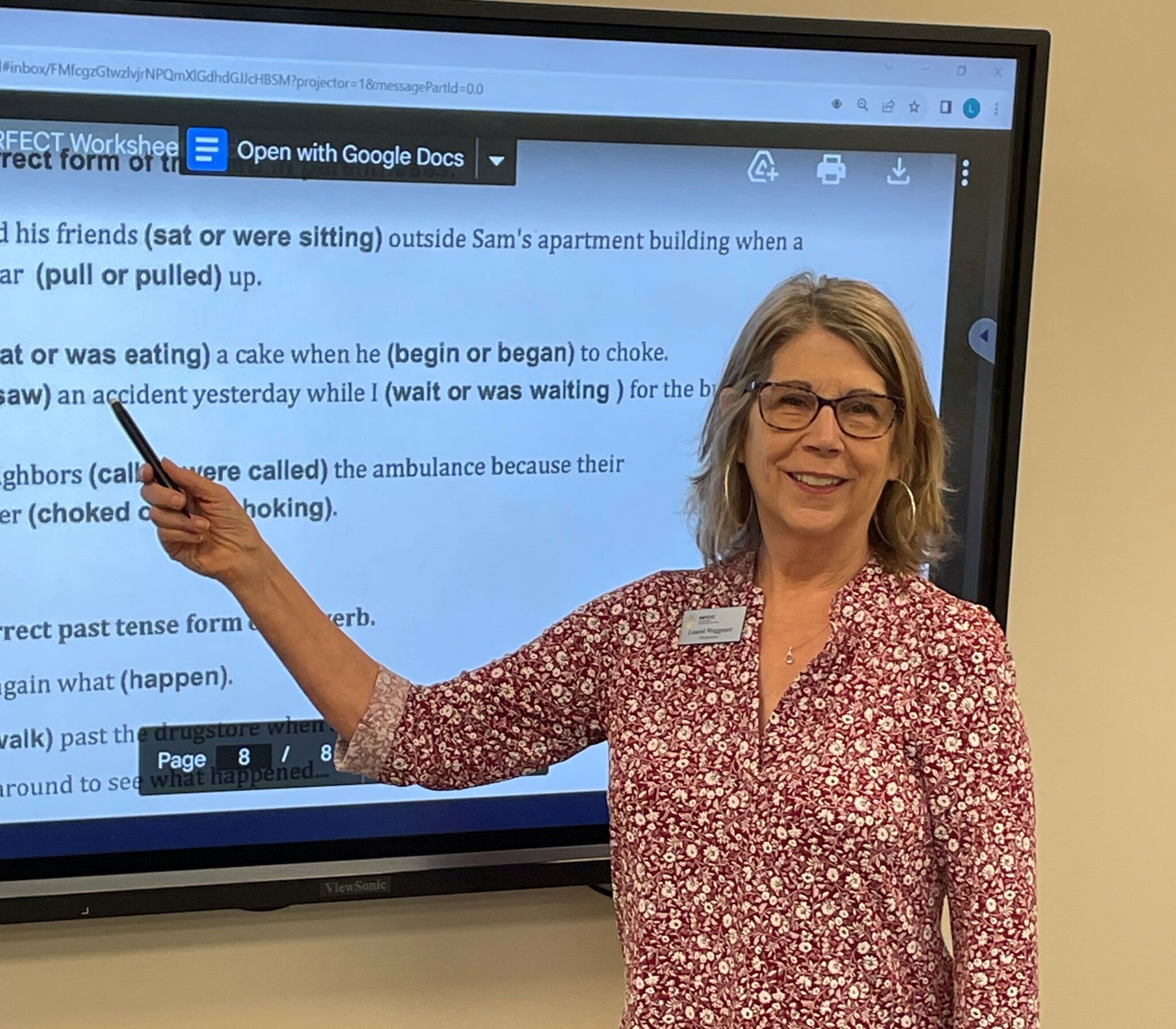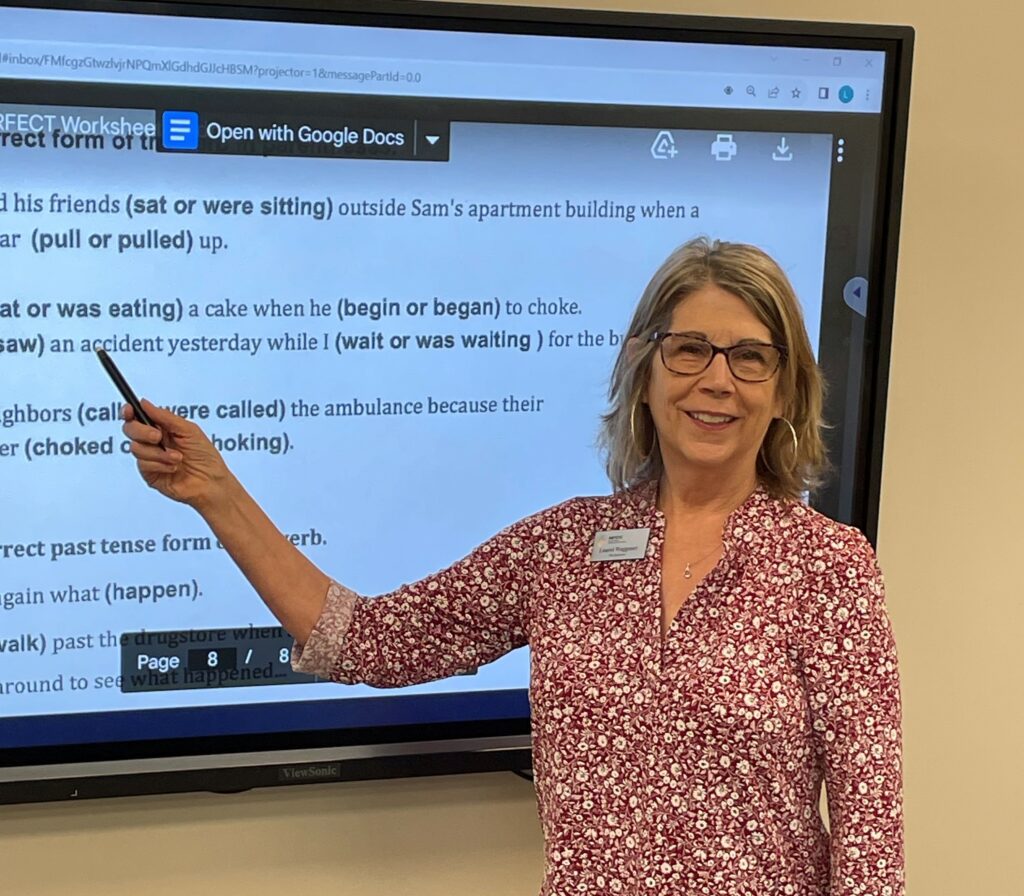 Laurel Waggener
Level 4 Instructor
Teaching ESL is the perfect "job" for me. 
The moment I heard that teaching English to people from other countries was a "job," I knew it was what I wanted to do.  I speak Spanish and love languages.  I also love meeting people from other countries and learning about other cultures. 
At the age of eight, I signed up for an Australian "pen pal" through a friendship league that was popular at that time.  Through her letters, I experienced what life was like growing up on a farm in Australia. My pen pal and I are still very "close" today. In fact, recently my family traveled to England to attend her daughter's wedding. 
Since 2018, I have been very fortunate to teach at NFCC.  NFCC has the best students!  I feel lucky to be able to contribute to their success in the ESL program at NFCC and their endeavors once they graduate the program. 
Recently, I had the honor of working with a graduate of the ESL program at NFCC to help her study for the U.S. citizenship exam. The day she became a U.S. citizen was a very proud day for both of us! 
My favorite project for my Level 4 students is having them create a non-profit organization.  The student's come up with very innovative ideas that are relevant and realistic. Then they present the project to their fellow classmates.  We often have observers from NFCC come to see the presentations and they are always so impressed by the student's great ideas and execution of their plans!