Want to get involved?
Learn more about the programs where Pam volunteers, sign up to volunteer yourself and make a difference by donating to North Fulton Community Charities.
You can read Pam's story below.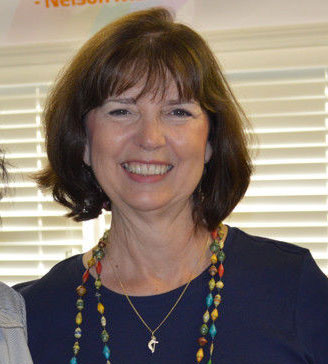 Tell Us About Yourself, Pam
My name is Pam Page. I Have been a volunteer at North Fulton Community Charities since 1997, when we were still on Grove Way. There were 3 or 4 of us in the office. The food panty was a closet behind where I sat. I got food, talked to the clients, and anything else I needed to do during that time. I still work at the intake desk on Wednesday afternoons, which I've done for all of those twenty-something years.
What Is Your Role At North Fulton Community Charities?
Now I'm the coordinating tutor and tutor for the GED program, which we've had for, now, 12 years. That's where my heart and soul is right this minute, which is working with the students who are our GED preparation students.
Why do you volunteer?
It's a real eye opener to know that are so many malnourished and needy people in our community. It's a hard thing to watch. My daughter was a high school senior when I started volunteering. She was about 17 and there would be about 17 and 18 year old girls coming into North Fulton Charities needing food, carrying their babies. There were times when their birthday's would be really close to my daughter's birthday. And I would think, there's no way this girl is having to live her life without any other support, and it just broke my heart and I could hardly keep from crying. But that just made me understand how hard it was. It made it very real for me how hard it was for people in the community, my community, people that just didn't have any other place to go. For them we were a safe place. We were a comfortable place. Even though they weren't comfortable in their circumstances, we were a comfortable place for them to be. That has driven what I have done. I don't feel like we're a strong community if we don't take care of the people who can't take care of themselves. We don't want them to stay there. We want them to be able to get stronger than their circumstances are right now. That's one of the big reasons I like the GED program so much. We're helping people move out of their circumstances. Everything North Fulton Community Charities does is geared toward trying to help people become more stable so that they are no longer part of the community that needs so much help. I don't even think about it as volunteering. This is where I am part of the community.