North Fulton Community Charities (NFCC) celebrated 40 years of service with a community celebration on Friday, June 23, 2023, at its Thrift Shop parking.  The event drew around 300 attendees, including NFCC supporters, staff and Board members, local church leaders and other community members.
"We couldn't celebrate forty years of service to North Fulton without expressing our gratitude to the community. This party was an opportunity to bring that community together – founding churches, long-time supporters, volunteers, board members, staff and especially the families we serve," said Sandy Holiday, NFCC executive director.
During the event program, Roswell Mayor Kurt Wilson congratulated NFCC on its 40 years. Roger Wise, Jr., ambassador to the Governor's office, read a letter from Governor Brian Kemp acknowledging the milestone event. Barbara Duffy, NFCC's first full-time employee and executive director for 29 years, reflected on milestone moments including moving to the current location and the challenges of Hurricane Katrina. Sandy Holiday, current executive director, spoke about the import role the broad spectrum of community partners have played in NFCC's success and the need for continued cooperation to plan for the future.
Program presenters shared their perspectives of the important role NFCC has played in the community: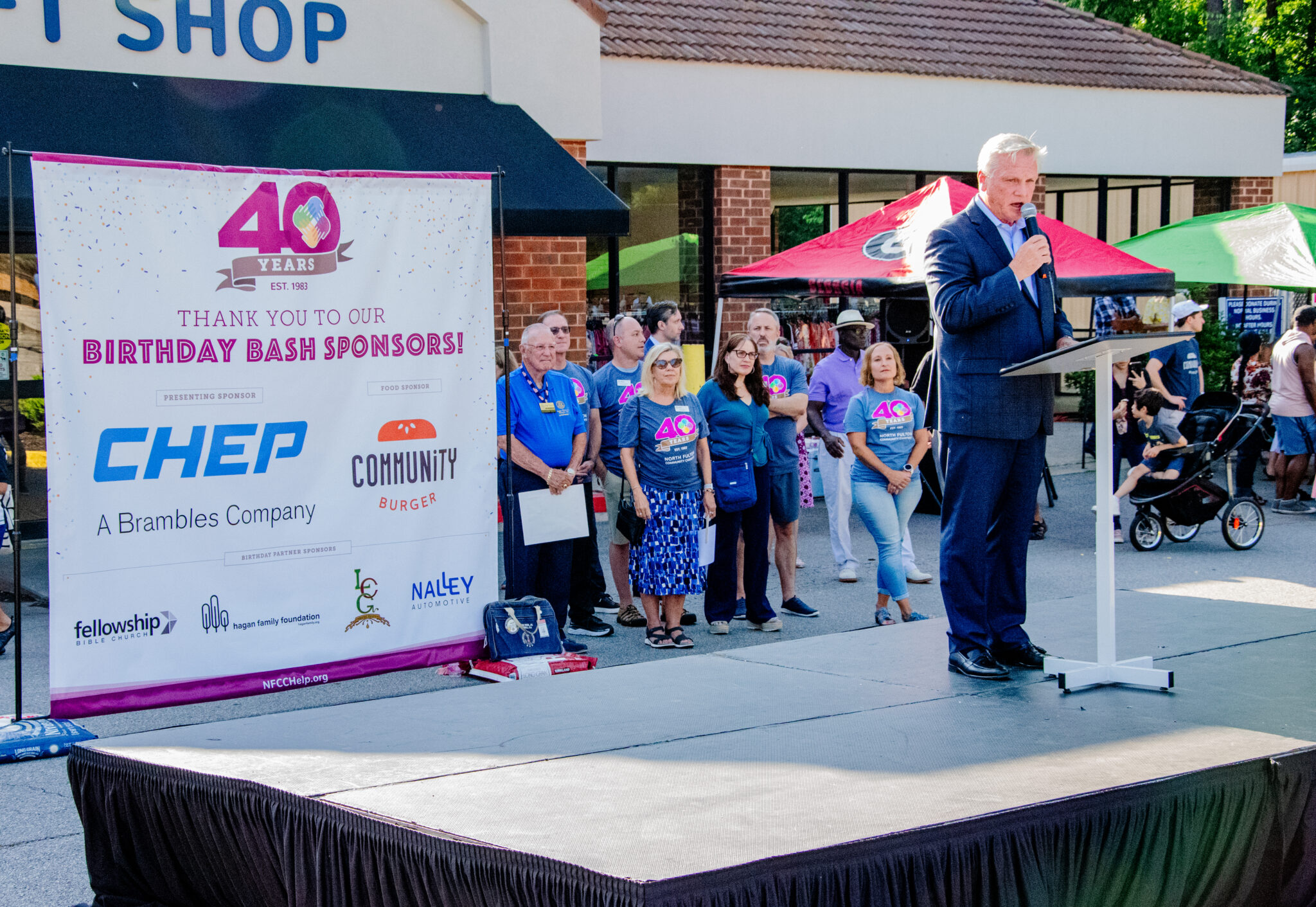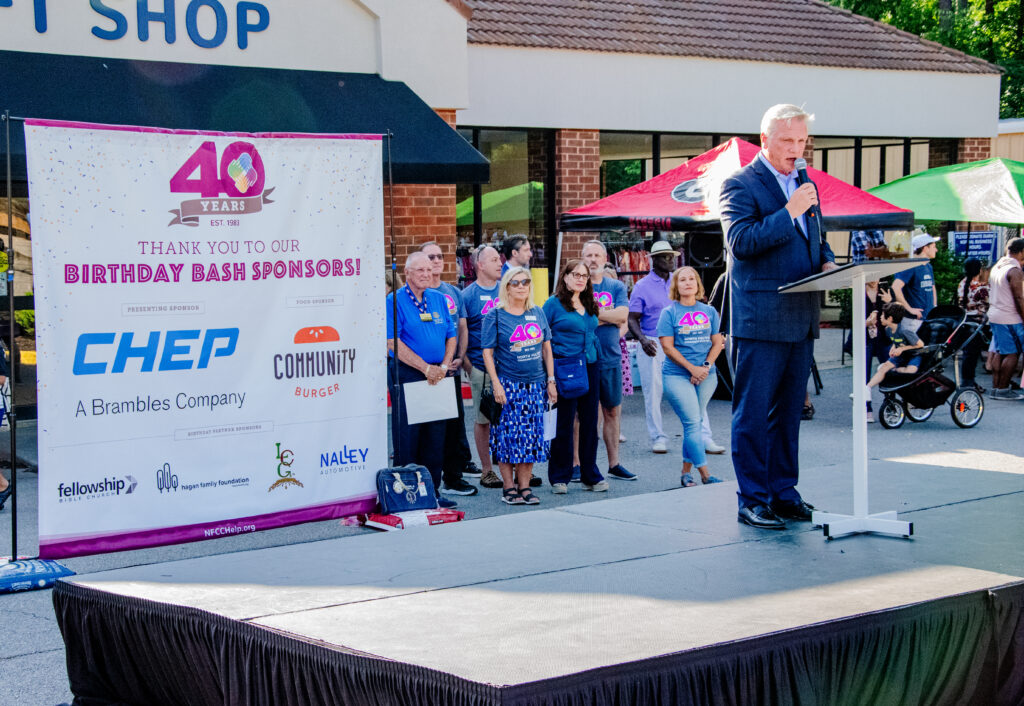 "One of the things I personally admire most about NFCC is that they truly understand that the best way to make a difference is by working together. That's why they partner with businesses, churches, schools and local governments to identify those in need in our community, and to develop effective solutions to help them," said Mayor Wilson.
"NFCC also understands how important it is to recognize the inherent dignity of each and every human being. Every interaction is characterized by genuine care, compassion and respect, and this approach has helped them build deep relationships with the people they serve, and deep relationships with our community as a whole."
"When I went to the governor and told him we'd been invited to the 40th anniversary of North Fulton Community Charities, he knew exactly what I was talking about. NFCC acts as a model for many other cities and states," said Wise, before reading the letter from Governor Kemp's office.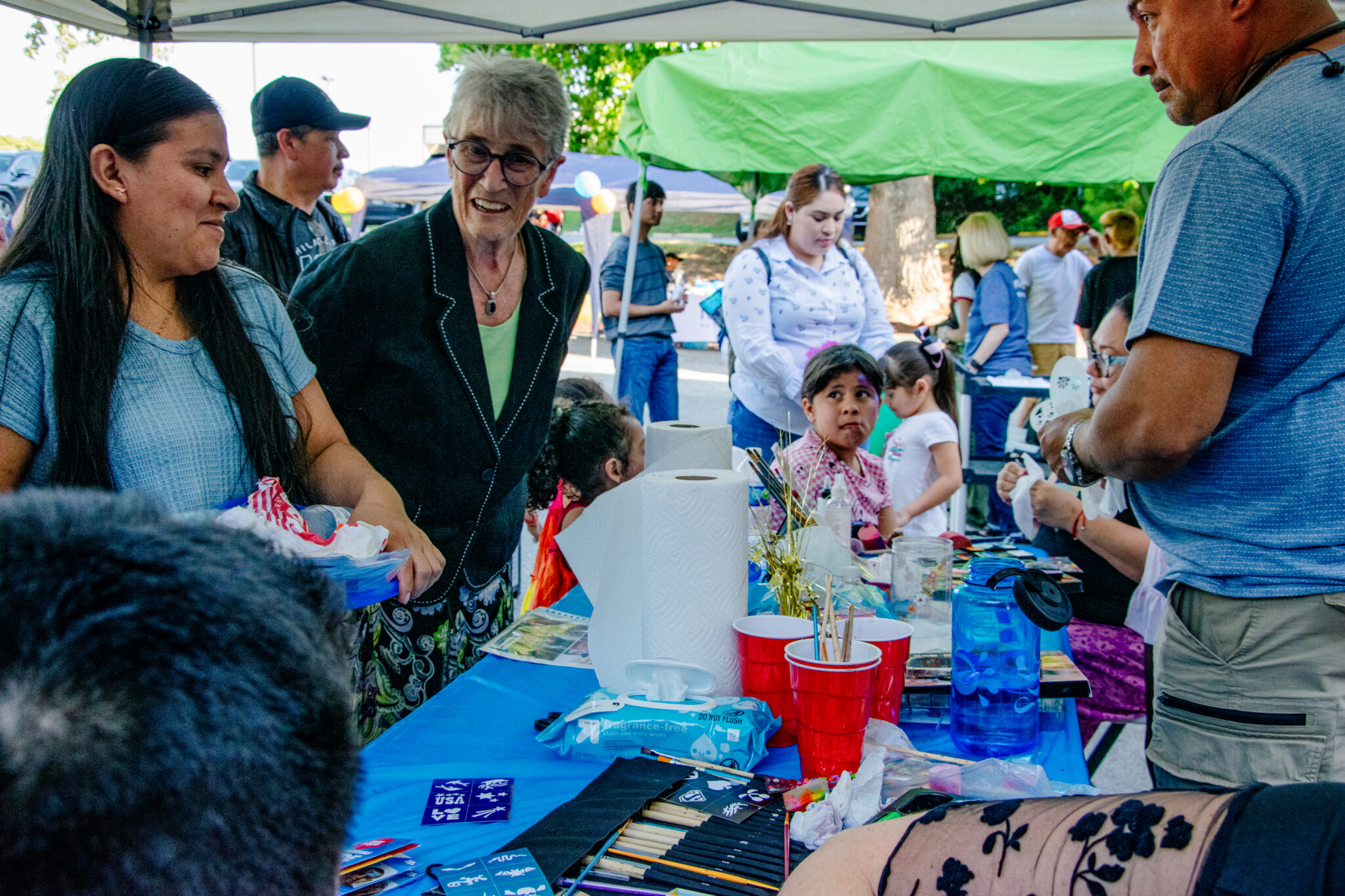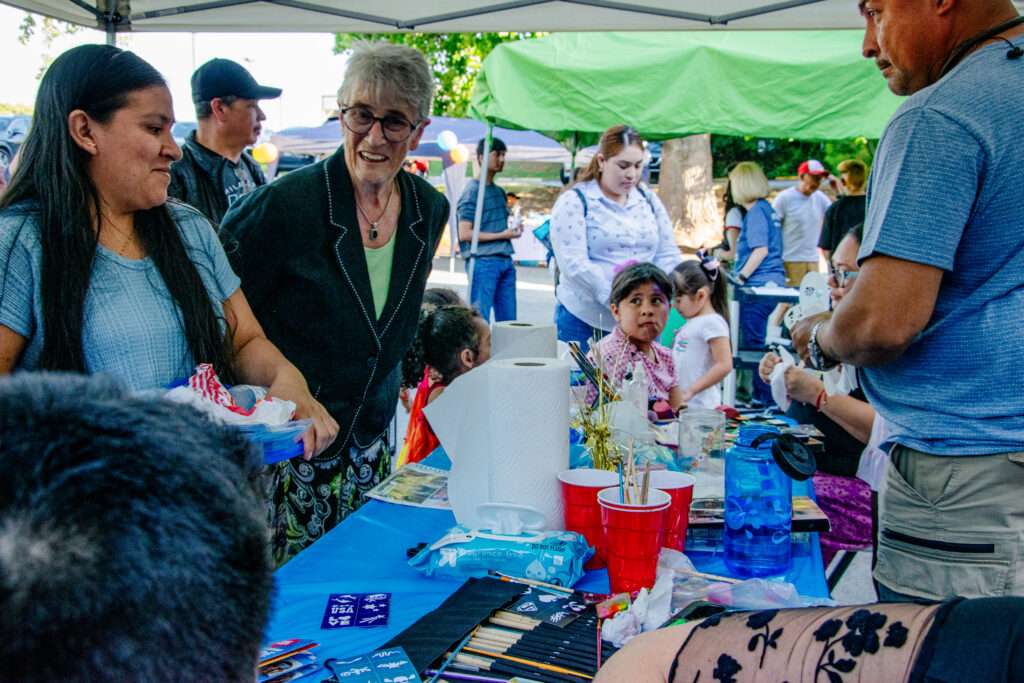 "Right behind me is our food pantry and our thrift shop where we ease hardship for over 200 families a day. Across the street is our education building where we host GED tutoring and English classes. In that building every month we prevent homelessness by providing over 100 families with emergency financial assistance. So, our work is important, it's critical. I wish it wasn't needed, but it is so we thank you all for being here to support us today," said Holiday.
"NFCC has been really, really good at finding ways – more and more ways – that we can help and finding the people to give that help and making it work, because it takes all of us," said Duffy.
The event was presented by CHEP North America.  Birthday Partner Sponsors were Nalley Automotive/Asbury Automotive, Fellowship Bible Church, LCG Financial Solutions and Community Burger.  Oasis Consulting was the Activity Zone sponsor.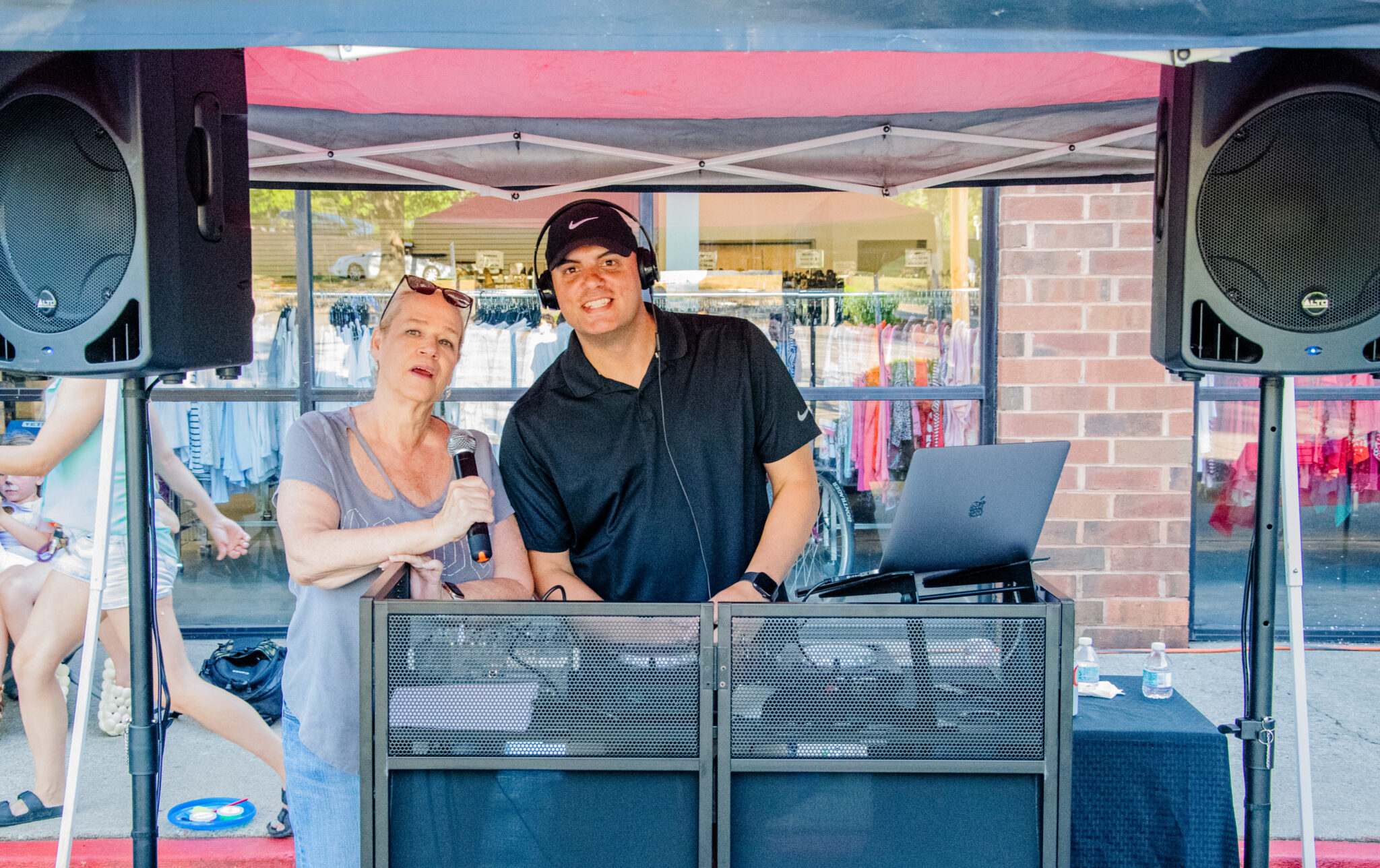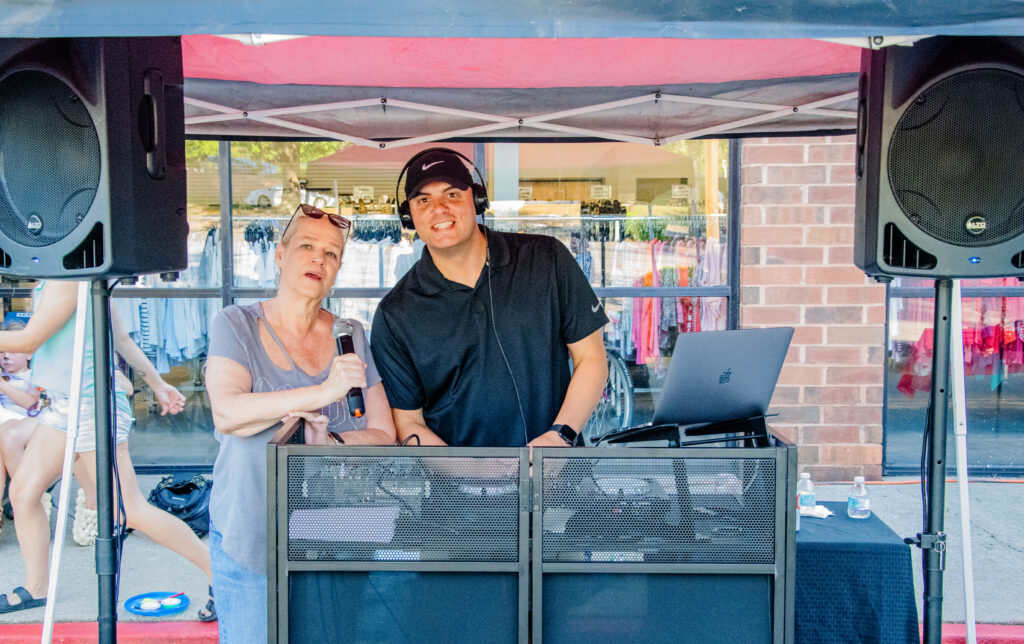 Attendees enjoyed burgers provided by Community Burger, ice cream, popcorn and other food, lemonade provided by the Roswell Woman's Club, face-painting and corn hole, as well as family-friendly activities. The Taco Truck food truck was onsite along with firemen and a fire truck from the Roswell Fire Department and a K-9 unit from the Roswell Police Department.
The Birthday Bash kicked off a yearlong celebration for NFCC to commemorate the organization's history, honor the individuals and community that made the last 40 years possible and look toward the future. NFCC will conclude its anniversary celebrations with "A Night in Tuscany" themed fundraising gala on March 23, 2024.